Maméan, Maam Valley, Connemara
The Maam Valley is a major north-south trending glacial valley in Connemara, Co. Galway. This site is in the Failmore River valley, in the townland of Teernakill (west) and Cur. The site is accessed along the Western Way route to the Maméan pass over the Maam Turks and into the Inagh Valley. Maméan is located on the northern limb of the Connemara Antiform , and consists of E-W–striking Middle Dalradian marbles, metasediments, and amphibolites.
This area is famous for its spectacular folds of Lakes Marble Formation outcrops. Cur Hill is probably the iconic site (access is via private land, so permission must be sought before visiting).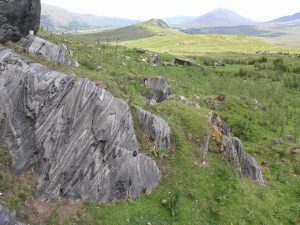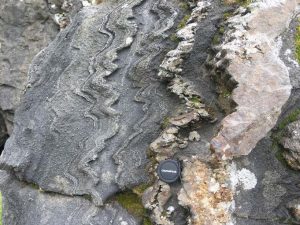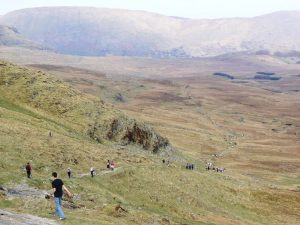 Areas underlain by marble (lime-rich) bedrock are noticeable rich in green vegetation, in contrast to browner vegetation which is underlain by metasediments or amphibolite.
The calcite marbles along the Maméan route comprising the formation's Upper Marble Member (Badley, 1976). Many, including the iconic folds at Cur Hill display superb tightly folded mesoscopic (locally D3) folds. The fold geometry is clearly visible due to the alternation of dark graphitic bands with light-gray calcite marble bands. Some outcrops show excellent examples of converging "s" and "z" fold patterns, with two distinct synformal folds present on this west-facing outcrop.
Connemara Dalradian Geology 3D Movie

This 3D movie shows the Dalradian geology and adjacent geological regions (South Mayo, Galway Granite, Metagabbro & Gneiss Suite, Carboniferous) in Connemara.
Maps and cross-sections:
Leake. B.W. and P.W.G. Tanner 1994. The Geology of the Dalradian and Associated Rocks of Connemara, Western Ireland. Royal Irish Academy, Dublin. 96pp ISBN: 9781874045182
3D Fly-over generated in SketchUp.